The Role of the Internet in the Endurance of "La Llorona" as a Liminal Archetypal Monster in Modern Latin American Society
Keywords:
social media, La Llorona legend, liminality, paranormal, Latin America, folklore, gender studies
Abstract
Monsters are liminal beings that not only portray fears,  proscriptions and collective norms, they are also embedded with special qualities that scare and, at the same time, captivate  people's inquisitiveness. Monstrosities are present in practically all cultures; they remain alive, being passed from one generation to another, often altering their characteristics over time. Modernity and science have not ended people's belief in paranormal beings; to the contrary, they are still vivid and fresh, with contemporary societies updating and incorporating them into daily life. This paper analyses one of the most well-known legends of Mexico and Latin America, the ghost of "La Llorona" (the weeping woman). The legend of La Llorona can be traced to pre-Hispanic cultures in Mexico, however, the presence of a phantasmagoric figure chasing strangers in rural and urban places has spread across the continent, from Mexico and Central America, to Latino communities in the United States of America. The study of this liminal creature aims to provide a deep sense of her characteristics – through spaces, qualities and meanings; and to furthermore understand how contemporary societies have adopted and modernised this figure, including through the internet. The paper analyses different  versions of the legend shared across online platforms and are analysed using Jeffrey Jerome Cohen's (1996) theoretical tool described in his work Monster Culture (Seven Theses), which demonstrates La Llorona's liminal qualities.
References
Báez-Jorge, F. (1990). Las seductoras macabras (Imágenes numinosas de la sexualidad femenina en Mesoamérica). La Palabra y el Hombre, 84, 252–255.
Bandy, J. (2000). Bordering the future: Resisting neoliberalism in the borderlands. Critical Sociology, 26(3), 232–267. doi:10.1177/08969205000260030401
Bennett, G. (1998). The vanishing hitchhiker at fifty-five. Western Folklore, 57(1), 1–17. doi:10.2307/1500246
Beville, M. (2009). Gothic-postmodernism: Voicing the terrors of postmodernity. Amsterdam: Rodopi.
Carbonell, A. M. (1999). From Llorona to Gritona: Coatlicue in feminist tales by Viramontes and Cisneros. MELUS, 24(2), 53–74. doi:10.2307/467699
Chess, S., & Newsom, E. (2014). Folklore, horror stories, and the slender man: The development of an internet mythology (2015 edition). New York, NY: Palgrave Pivot.
Cohen, J. J. (Ed.). (1996). Monster theory: Reading culture (1st ed.). Minneapolis, MN: University of Minnesota Press.
Doyle, J. (1996). Haunting the borderlands: La Llorona in Sandra Cisneros's "Woman hollering creek." Frontiers: A Journal of Women Studies, 16(1), 53–70. doi:10.2307/3346922
Florez, K. (2009). The weeping land: Postcolonialism in La Llorona (Undergraduate Honor's Thesis). Retrieved from Utah State University: http://digitalcommons.usu.edu/cgi/viewcontent.cgi?article=1030&context=honors
Garner, K. (2015, December 21). Liminality. In W. Hughes, D. Punter, & A. Smith (Eds.), The encyclopedia of the gothic. Malden, MA: John Wiley & Sons.
Gomez-Ferri, J. (2011). Leyendas urbanas: La modernización de la tradición y la tradicionalización de la modernidad. Caramella. Revista de Música Y Cultura Popular, 25, 35–37.
Heath, C., Bell, C., & Sternberg, E. (2001). Emotional selection in memes: The case of urban legends. Journal of Personality and Social Psychology, 81(6), 1028–1041. doi:10.1037/0022-3514.81.6.1028
Ibarra, E. A. (2014). Ghosting the nation: La Llorona, popular culture, and the spectral anxiety of Mexican identity. In L. Piatti-Farnell & M. Beville (Eds.), The gothic and the everyday (pp. 131–151). Palgrave Macmillan UK. https://doi.org/10.1057/9781137406644_8
Jones, P. (1988). "There Was a Woman": La Llorona in Oregon. Western Folklore, 47(3), 195–211.https://doi.org/10.2307/1499917
Kapferer, B. (2004). Ritual Dynamics and Virtual Practice: Beyond Representation and Meaning. Social Analysis: The International Journal of Social and Cultural Practice, 48(2), 35–54.
Madge, C., & O'Connor, H. (2005). Mothers in the Making? Exploring Liminality in Cyber/Space. Transactions of the Institute of British Geographers, 30(1), 83–97.
Manrique, M. J. G. (2014). El "Estigma de Eva" en la leyenda de la mexicana la llorona. Su representación cinematográfica. Antropología Experimental, 0(13).
Mathews, H. F. (2005). Uncovering Cultural Models of Gender from Accounts of Folktales. In N. Quinn (Ed.), Finding Culture in Talk (pp. 105–155). Palgrave Macmillan US. https://doi.org/10.1007/978-1-137-05871-3_4
Mercado-López, L. M. (2016). From Lost Woman to Third Space Mestiza Maternal Subject: La Llorona as a Metaphor of Transformation. In C. Herrera & L. M. Mercado-López (Eds.), (Re)mapping the Latina/o Literary Landscape (pp. 209–226). Palgrave Macmillan US. https://doi.org/10.1057/978-1-349-94901-4_13
Morales, O. (2010). Chicana Feminism and Horror: Fear La Llorona. Utah Foreign Language Review, 18(0).
Nuzum, K. A. (2009). The Monster's Sacrifice—Historic Time: The Uses of Mythic and Liminal Time in Monster Literature. Children's Literature Association Quarterly, 29(3), 217–227.https://doi.org/10.1353/chq.0.1393
Organización de Mujeres Salvadoreñas por La Paz (ORMUSA). (2011). El Salvador entre la Institucionalización y la práctica Misógina. San Salvador, El Salvador: ORMUSA.
Oswald, D. M. (2010). Monsters, Gender and Sexuality in Medieval English Literature. Woodbridge, Suffolk, UK ; Rochester, NY: D.S.Brewer.
Perez, D. R. (2008). There Was a Woman: La Llorona from Folklore to Popular Culture (unknown edition). Austin: University of Texas Press.
Rodríguez Tapia, S. M., & Verduzco Argüelles, G. I. (2009). La Llorona: análisis literario-simbólico. In T. López Pellisa & F. Á. Moreno Serrano (Eds.), Ensayos sobre ciencia ficción y literatura fantástica: actas del Primer Congreso Internacional de literatura fantástica y ciencia ficción (pp.306–318). Madrid: Asociación Cultural Xatafi: Universidad Carlos III de Madrid.
Subero, G. (2016). Challenging Patriarchy in the Gothic Horror Mexican Cinema. In Gender and Sexuality in Latin American Horror Cinema (pp. 1–38). Palgrave Macmillan UK. https://doi.org/10.1057/978-1-137-56495-5_1
The Economist. (2013, September). Everyday aggression. The Economist. Retrieved from http://www.economist.com/news/americas/21586575-laws-punish-domestic-violence-are-toooften-honoured-breach-everyday-aggression
The Economist. (2016, November). Murder and machismo. The Economist. Retrieved from http://www.economist.com/news/americas/21709579-fighting-femicide-argentina-murder-andmachismo
Thomassen, B. (2009). The Uses and Meanings of Liminality. International Political Anthropology, 2(1), 5–28.
Turner, V. W., Abrahams, R. D., & Harris, A. (1995). The Ritual Process: Structure and Anti-Structure (Revised ed. edition). New York: Aldine Transaction.
Van Gennep, A. (1909). Les rites de passage. Paris: Emile Nourry.
Walraven, E. (1991). Evidence for a Developing Variant of "La Llorona." Western Folklore, 50(2), 208–217. https://doi.org/10.2307/1500049
Wisker, G. (2007). Crossing Liminal Spaces: Teaching the Postcolonial Gothic. Pedagogy, 7(3), 401–425.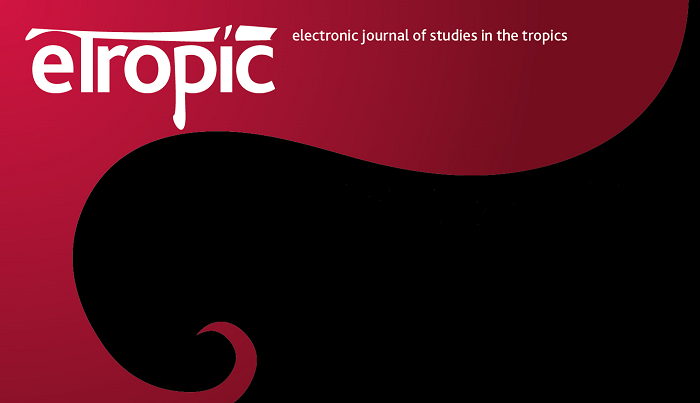 Downloads
How to Cite
Ramírez Plascencia, D. (2017). The Role of the Internet in the Endurance of "La Llorona" as a Liminal Archetypal Monster in Modern Latin American Society. ETropic: Electronic Journal of Studies in the Tropics, 16(1). https://doi.org/10.25120/etropic.16.1.2017.3567
License
Authors who submit articles to this journal agree to the following terms:
1. Authors are responsible for ensuring that any material that has influenced the research or writing has been properly cited and credited both in the text and in the Reference List (Bibliography). Contributors are responsible for gaining copyright clearance on figures, photographs or lengthy quotes used in their manuscript that have been published elsewhere.
2. Authors retain copyright and grant the journal right of first publication with the work simultaneously licensed under a Creative Commons Attribution (CC-BY) License that allows others to share and adapt the work with an acknowledgement of the work's authorship and initial publication in this journal.
3. Authors are able to enter into separate, additional contractual arrangements for the non-exclusive distribution of the journal's published version of the work (e.g., post it to an institutional repository, or publish it in a book), with proper acknowledgement of the work's initial publication in this journal.
4. Authors are permitted and encouraged to post their work online (e.g., in institutional repositories or on their website) prior to and during the submission process, as it can lead to productive exchanges, as well as earlier and greater citation of published work (see The Effect of Open Access or The Open Access Citation Advantage). Where authors include such a work in an institutional repository or on their website (i.e., a copy of a work which has been published in eTropic, or a pre-print or post-print version of that work), we request that they include a statement that acknowledges the eTropic publication including the name of the journal, the volume number and a web-link to the journal item.
5. Authors should be aware that the Creative Commons Attribution (CC-BY) License permits readers to share (copy and redistribute the work in any medium or format) and adapt (remix, transform, and build upon the work) for any purpose, even commercially, provided they also give appropriate credit to the work, provide a link to the license, and indicate if changes were made. They may do these things in any reasonable manner, but not in any way that suggests you or your publisher endorses their use.