Traditional Beliefs About Weretigers Among the Garos of Meghalaya (India)
Keywords:
Garo ethnic group, weretigers, legendary tigermen, magical shape-shifters, anthropological study of dreams, non-human animals' cosubjectivity with human animals
Abstract
The Garos, a tribal group who live in India (western highlands of Meghalaya and the southern foothills of Assam) and northern Bangladesh, are noted for their diverse beliefs on weretigers – that is, human beings with the ability of turning themselves, in various ways, into ferocious tigers and subsequently back to human form. The present paper provides a first attempt at classifying the different motifs in Garo weretiger-lore which include traditional beliefs of: (1) a legendary 'race' of monstrous tigermen ruled over by a Tiger Mother; (2) individuals endowed with a 'dual' vital principle inhabiting a human body during daytime and a tiger one at nighttime; and (3) shape-shifters who can physically metamorphose into tigers through magical arts. This classification highlights the rich variety of beliefs held by the Garos on these  quintessential liminal beings, and provides a critical analysis of the most frequently occurring class of werebeasts in the folktales, legends, and epics of tropical Asia.
References
Bal, E. (2007). They ask if we eat frogs: Garo ethnicity in Bangladesh. Singapore: Institute of Southeast Asian Studies.
Bareh, H. (1974). Meghalaya. Shillong: North-Eastern India News and Feature Service.
Bertrand, G. (1958). Secret lands where women reign. London: Robert Hale.
Bhattacharjee, A. (1990). Animals in Assamese folktales: A comparative study of the characteristics of animals. Folklore, 31(2), 37-43.
Bhattacharyya, N. N. (1995). Religious culture of north-eastern India (H. K. Barpujari lectures). New Delhi: Manohar.
Bordoloi, R. M. (2002). The Garos: Their rituals and customs. In P. C. Sarma (Ed.), Traditional customs and rituals of Northeast India (Vol. 1, pp. 102-106). Guwahati: Vivekananda Kendra Institute of Culture.
Brahma, K. (1992). A study of socio-religious beliefs, practices and ceremonies of the Bodos (with special reference to the Bodos of Kokrajhar District). Calcutta: Punthi Pustak.
Brighenti, F. (2011). Kradi Mliva: The phenomenon of tiger transformation in the traditional lore of the Kondh tribals of Orissa. Lokaratna, 4, 11-25. Available at The Folklore Foundation: https://www.repository.cam.ac.uk/bitstream/handle/1810/244857/Lokaratna_04.pdf
Brighenti, F. (2016). Credenze tradizionali nelle tigri mannare nel Meghalaya e nell'Assam occidentale (India). In S. Beggiora (Ed.), Mostri, spettri e demoni dell'Himalaya. Un'indagine etnografica fra mito e folklore (pp.267-304). Turin: Meti Edizioni.
Burling, R. (1963). Rengsanggri: Family and kinship in a Garo village. Philadelphia, PA: University of Pennsylvania Press.
Burling, R. (2003). The Tibeto-Burman languages of northeastern India. In Thurgood, G., & LaPolla, R. J. (Eds.), The Sino-Tibetan languages (pp. 169-191). London: Routledge.
Carey, W. (1919). A Garo jungle book, or the mission to the Garos of Assam. Philadelphia, PA: Judson Press.
Datta, B. (1995). A study of the folk culture of the Goalpara region of Assam. Guwahati: University Publication Department, Gauhati University.
De Beauclair, I. (1970). Tribal cultures of Southwest China. Taipei: Orient Cultural Service.
De Maaker, E. (2007). From the Songsarek faith to Christianity: Conversion, religious identity and ritual efficacy. South Asia: Journal of South Asian Studies, 30(3), 517-530.
Eliot, J. (1792). Observations on the inhabitants of the Garrow Hills, made during a publick deputation in the years 1788 and 1789. Asiatick Researches, 3, 17-37.
Endicott, K. M. (1970). An analysis of Malay magic. Oxford: Clarendon Press.
Endicott, K. M. (1979). Batek Negrito religion: The world-view and rituals of a hunting and gathering people of peninsular Malaysia. Oxford: Clarendon Press.
Endle, S. (1911). The Kacháris. London: Macmillan & Co.
Goswami, M. C., & Majumdar, D. N. (1968). A study of social attitudes among the Garo. Man in India, 48(1), 55-70.
Goswami, P. D. (1949). Abor tales. Man in India, 29(3-4), 209-211.
Hammond, C. E. (1992/93). Sacred metamorphosis: The weretiger and the shaman. Acta Orientalia Academiae Scientiarum Hungaricae, 46(2/3), 235-255.
Hammond, C. E. (1995). The demonization of the other: Women and minorities as weretigers. Journal of Chinese Religions, 23(1), 59-80.
Hoffmann, J. (1930). Encyclopaedia Mundarica (Vol. 3). Patna: Superintendent, Government Printing, Bihar and Orissa.
Joshua Project (2017). Garo populations [Map]. Retrieved from: https://joshuaproject.net/people_groups/11826/BG
Kalita, D. K. (1992). A study of the magical beliefs and practices in Assam, with special reference to the magical lore of Mayong (Unpublished doctoral dissertation). Gauhati University, Guwahati.
Khaleque, T. M. K. (1984). Religious syncretism among the Bangladesh Garos. Bangladesh Journal of Sociology, 2, 140-158.
Kumar, A., & Marcot, B. G. (2010). Key tiger habitats in the Garo Hills of Meghalaya. Journal of Chemo and Biosphere, 1(1), 90-98.
Langford, J. M. (2013). Wilder powers: morality and animality in tales of war and terror. HAU: Journal of Ethnographic Theory, 3(3), 223-244.
Lévy-Bruhl, L. (1971). The 'soul' of the primitive. (L. A. Clare, Trans.). Chicago, IL: Gateway. (Original work published 1927).
Majumdar, D. N. (1978). Culture change in two Garo villages. Calcutta: Anthropological Survey of India.
Marak, J. (1986). Garo customary laws and practices (a sociological study). Calcutta: Firma KLM.
Marak, J. L. R. (2000). Balpakram: The land of spirits: mangru-mangram-asong (Garo mythology). New Delhi: Akansha Publishing House.
Marak, P. R. (2005). The Garo tribal religion: Beliefs and practices. Delhi: Anshah Publishing House.
Marak, Q. (2014). Food politics: Studying food, identity and difference among the Garos. Newcastle upon Tyne: Cambridge Scholars Publishing.
Matisoff, J. A. (1988). The dictionary of Lahu. Berkeley, CA: University of California Press.
Nengminza, D. S. (1978). The school dictionary: Garo to English (7th ed.). Tura: Garo Hills Book Emporium Hawakhana.
Playfair, A. (1909). The Garos. London: D. Nutt.
Rajkhowa, B. (1973) (1905. 1920). Assamese popular superstitions and Assamese demonology. Guwahati: Department of Folklore Research, Gauhati University.
Riboli, D. (2009). Shamans and transformation in Nepal and peninsular Malaysia. In Franco, E., & Eigner, D. (Eds.), Yogic perception, meditation and altered states of consciousness (pp. 347-367). Vienna: Verlag der Österreichischen Akademie der Wissenschaften.
Rongmuthu, D. S. (1960). The folk-tales of the Garos. Guwahati: Department of Publications, Gauhati University.
Rongmuthu, D. S. (1967). The epic lore of the Garos. Guwahati: Department of Tribal Culture and Folklore Research, Gauhati University.
Rongmuthu, D. S. (1993). Jadoreng (the pycho-physical culture of the Garos). Shillong: Meghalaya State Museum.
Simon I. M. (1996). Meghalaya District Gazetteer: Garo Hills District. Shillong: Government of Meghalaya, Arts and Culture Department.
Syamchaudhuri, N. K., & Das, M. M (1973). The Lalung society: A theme for analytical ethnography. Calcutta: Anthropological Survey of India.
Thumra, J. H. (2003). The Naga primal (traditional) religion and Christianity: A theological reflection. In V. K. Nuh (Ed.), In search of praxis theology for the Nagas (pp. 53-76). New Delhi: Regency Publications.
Tyler, S. A. (1962). Some ethnographic notes on the Garos of Assam (Unpublished master's thesis). Stanford University, Stanford, CA.
Valk, Ü., & Goswami, N. (2013). Generic resources and social boundaries of magic in Assam: Fieldwork notes from Mayong. Journal of Folkloristics, 1, 5-13.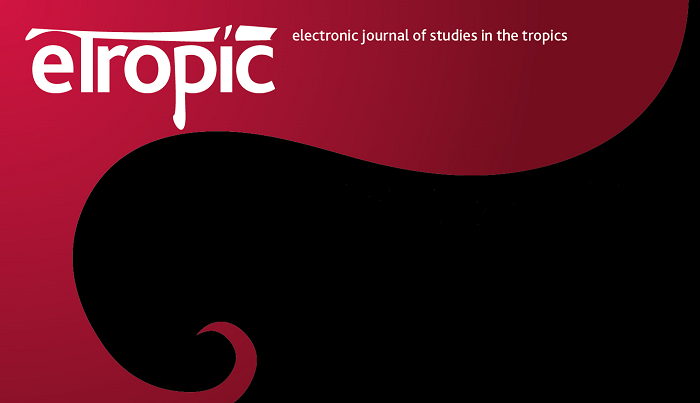 Downloads
How to Cite
Brighenti, F. (2017). Traditional Beliefs About Weretigers Among the Garos of Meghalaya (India). ETropic: Electronic Journal of Studies in the Tropics, 16(1). https://doi.org/10.25120/etropic.16.1.2017.3568
License
Authors who submit articles to this journal agree to the following terms:
1. Authors are responsible for ensuring that any material that has influenced the research or writing has been properly cited and credited both in the text and in the Reference List (Bibliography). Contributors are responsible for gaining copyright clearance on figures, photographs or lengthy quotes used in their manuscript that have been published elsewhere.
2. Authors retain copyright and grant the journal right of first publication with the work simultaneously licensed under a Creative Commons Attribution (CC-BY) License that allows others to share and adapt the work with an acknowledgement of the work's authorship and initial publication in this journal.
3. Authors are able to enter into separate, additional contractual arrangements for the non-exclusive distribution of the journal's published version of the work (e.g., post it to an institutional repository, or publish it in a book), with proper acknowledgement of the work's initial publication in this journal.
4. Authors are permitted and encouraged to post their work online (e.g., in institutional repositories or on their website) prior to and during the submission process, as it can lead to productive exchanges, as well as earlier and greater citation of published work (see The Effect of Open Access or The Open Access Citation Advantage). Where authors include such a work in an institutional repository or on their website (i.e., a copy of a work which has been published in eTropic, or a pre-print or post-print version of that work), we request that they include a statement that acknowledges the eTropic publication including the name of the journal, the volume number and a web-link to the journal item.
5. Authors should be aware that the Creative Commons Attribution (CC-BY) License permits readers to share (copy and redistribute the work in any medium or format) and adapt (remix, transform, and build upon the work) for any purpose, even commercially, provided they also give appropriate credit to the work, provide a link to the license, and indicate if changes were made. They may do these things in any reasonable manner, but not in any way that suggests you or your publisher endorses their use.