Tropical Liminal: Urban Vampires & Other Blood-Sucking Monstrosities
Keywords:
vampires, Tropics, Gothic, Tropical Gothic, monstrosities
Abstract
Vampires and other blood-sucking monstrous beings constitute some of the most famous myths, legends and stories that continue to haunt contemporary societies. This special issue examines the presence of these beings within cities and their rural surrounds. The contributions to this special issue reflect upon vampires and other monstrosities in relation to the tropical regions of the world from historical pasts to present-day manifestations, and imaginary tropical futures, including: the British colonial empire in the tropical east, New Orleans in the deep south of the United States, across the border to Mexico and Latin American communities, over to India and Southeast Asia, including Bangkok in Thailand, Singapore, and Sabah on the island of Borneo, and to the tropical east coast of Australia. However, the concept of the tropics is not simply a geographical construct, the imaginary of the tropics also emerges out of the spaces of mythology and oral storytelling, ethnographic reports, literature, science fiction magazines, film and television, video games and the internet.
References
Ball, A. (Producer). (2008-2014). True blood [Television series]. United States of America: HBO.
Burroughs, W. (2002). Junky. Camberwell, Australia: Penguin. (Original work published 1953,Junkie: Confessions of an unredeemed drug addict).
Camus, A. (2013). The outsider. Camberwell, Australia: Penguin. (Original work published 1967,L'Étranger)
'Dracula'(1982) [video game]. Los Gatos, CA:Imagic for Intellivision.
Evans, I. N. H. (1953). The religion of the Tempasuk Dusuns. Cambridge: Cambridge University Press.
Foucault, M.(1984).Of other spaces: Utopias and heterotopias (J. Miskowiec, Trans.) Architecture/Movement/Continuité. Retrieved from http://web.mit.edu/allanmc/www/foucault1.pdf
Harris, C.(2001-2013). The southern vampire mysteries[Collection of novels].New York, NY: Ace books.
Sippapak, Y. (Director). (2006). Krasue Valentine (Ghost of Valentine) [Motion Picture]. Thailand: Sahamongkol Film International.
Spurrier, P. (Director) (2005). P [Motion Picture]. Thailand: Creative Films Siam.
'Tainted' (2016) [video game]. Singapore: ITE/NUS for PC.
Turner, V. (1967). The forest of symbols: Aspects of Ndembu ritual. London: Cornell University Press. (Original work published 1960).
'Vampire the Masquerade: Bloodlines' (2004) [video game]. Santa Monica, CA: Activision for PC.
Van Gennep, A. (1960). Rites of passage(M.B. Vizedom & G.L. Gaffee, Trans.). Chicago, IL: The University of Chicago Press. (Originally published 1909, Les Rites de Passage).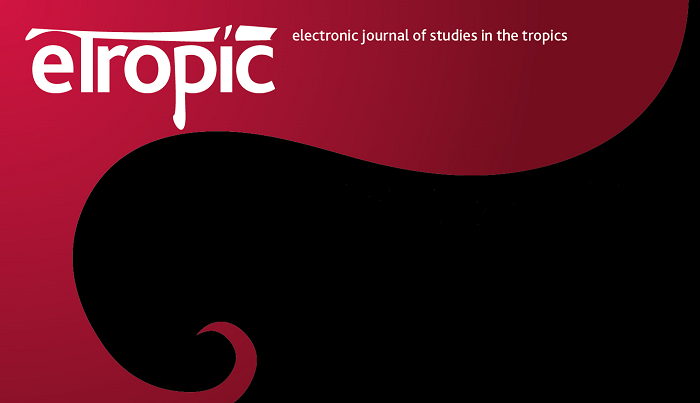 Downloads
How to Cite
Lundberg, A., & Geerlings, L. (2017). Tropical Liminal: Urban Vampires & Other Blood-Sucking Monstrosities. ETropic: Electronic Journal of Studies in the Tropics, 16(1). https://doi.org/10.25120/etropic.16.1.2017.3574
License
Authors who submit articles to this journal agree to the following terms:
1. Authors are responsible for ensuring that any material that has influenced the research or writing has been properly cited and credited both in the text and in the Reference List (Bibliography). Contributors are responsible for gaining copyright clearance on figures, photographs or lengthy quotes used in their manuscript that have been published elsewhere.
2. Authors retain copyright and grant the journal right of first publication with the work simultaneously licensed under a Creative Commons Attribution (CC-BY) License that allows others to share and adapt the work with an acknowledgement of the work's authorship and initial publication in this journal.
3. Authors are able to enter into separate, additional contractual arrangements for the non-exclusive distribution of the journal's published version of the work (e.g., post it to an institutional repository, or publish it in a book), with proper acknowledgement of the work's initial publication in this journal.
4. Authors are permitted and encouraged to post their work online (e.g., in institutional repositories or on their website) prior to and during the submission process, as it can lead to productive exchanges, as well as earlier and greater citation of published work (see The Effect of Open Access or The Open Access Citation Advantage). Where authors include such a work in an institutional repository or on their website (i.e., a copy of a work which has been published in eTropic, or a pre-print or post-print version of that work), we request that they include a statement that acknowledges the eTropic publication including the name of the journal, the volume number and a web-link to the journal item.
5. Authors should be aware that the Creative Commons Attribution (CC-BY) License permits readers to share (copy and redistribute the work in any medium or format) and adapt (remix, transform, and build upon the work) for any purpose, even commercially, provided they also give appropriate credit to the work, provide a link to the license, and indicate if changes were made. They may do these things in any reasonable manner, but not in any way that suggests you or your publisher endorses their use.