Sam
Keywords:
transgender, story, queer community, Puerto Rico, LQBTQ
Abstract
The short story 'Sam' is part of an original collection of short stories written as part of my MA creative thesis, Circo, which seeks to give voice to the queer community of Santurce, Puerto Rico through the integration of characters and storylines based on real queer Puerto Rican individuals and the personal experience I acquired being actively involved in Santurce's LQBTQ community. These individuals' queerness has led them to suffer misrepresentation and exclusion, as well as a social oppression that often denies them the freedom and opportunity to live genuinely validating lives. They inhabit what Homi K. Bhabha calls the 'betwixt and between', that 'in between' space that allows individuals to elaborate strategies of selfhood that initiate new signs of identity (Mangham,p.4). Though inhabiting these spaces can allow for certain types of self-development, the largely traditional, heterosexual and conservative nature of Puerto Rico's majority culture constantly pressures them to abide by normative gender stereotypes. Trans people thus feel the pull of the desire for 'normalcy' and the desire to find their 'true' self, which can keep them trapped in a stagnant world of 'in-betweenness.' Rather than play the victim, though, they embrace their limbo existence and make it into a productive space of expression and personal development.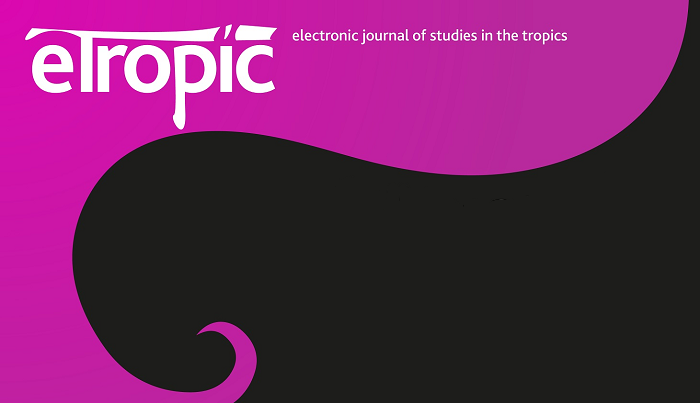 Downloads
How to Cite
Ocasio-Russe, L. (2017). Sam. ETropic: Electronic Journal of Studies in the Tropics, 16(2). https://doi.org/10.25120/etropic.16.2.2017.3613
License
Authors who submit articles to this journal agree to the following terms:
1. Authors are responsible for ensuring that any material that has influenced the research or writing has been properly cited and credited both in the text and in the Reference List (Bibliography). Contributors are responsible for gaining copyright clearance on figures, photographs or lengthy quotes used in their manuscript that have been published elsewhere.
2. Authors retain copyright and grant the journal right of first publication with the work simultaneously licensed under a Creative Commons Attribution (CC-BY) License that allows others to share and adapt the work with an acknowledgement of the work's authorship and initial publication in this journal.
3. Authors are able to enter into separate, additional contractual arrangements for the non-exclusive distribution of the journal's published version of the work (e.g., post it to an institutional repository, or publish it in a book), with proper acknowledgement of the work's initial publication in this journal.
4. Authors are permitted and encouraged to post their work online (e.g., in institutional repositories or on their website) prior to and during the submission process, as it can lead to productive exchanges, as well as earlier and greater citation of published work (see The Effect of Open Access or The Open Access Citation Advantage). Where authors include such a work in an institutional repository or on their website (i.e., a copy of a work which has been published in eTropic, or a pre-print or post-print version of that work), we request that they include a statement that acknowledges the eTropic publication including the name of the journal, the volume number and a web-link to the journal item.
5. Authors should be aware that the Creative Commons Attribution (CC-BY) License permits readers to share (copy and redistribute the work in any medium or format) and adapt (remix, transform, and build upon the work) for any purpose, even commercially, provided they also give appropriate credit to the work, provide a link to the license, and indicate if changes were made. They may do these things in any reasonable manner, but not in any way that suggests you or your publisher endorses their use.