Reading Three Stories of Palm Island
Keywords:
genre, fiction, non-fiction, Palm Island, cultural history, Indigenous Australia
Abstract
After briefly introducing Palm Island and its history as a place of punishment for Indigenous people, this essay looks at how readers respond to three books about Palm: Thea Astley's The Multiple Effects of Rainshadow (1996), Chloe Hooper's The Tall Man (2008), and Cathy McLennan's Saltwater (2016). Using reviews posted by contributors to Goodreads, I investigate the colocation of terms which recur in positive reviews, in search of a specific form of reading, described here as "absorption." Against the publishing and broader cultural conventions which differentiate fiction from non-fiction, the evidence shows that readers who describe themselves as having become absorbed tend also to praise these books for their truth, regardless of genre. The essay proposes some points of reference for thinking about the reading experience, and concludes by briefly noting the limits of using of genre in marketing, reviewing, and studying books. The essay is built on an awareness of the radical imbalance in the distribution of literacy in the region these books depict.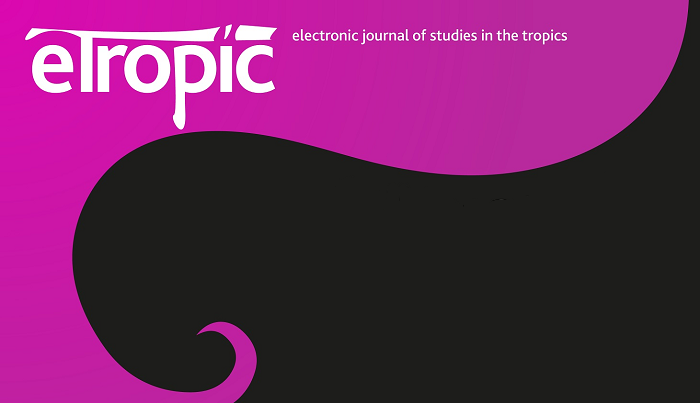 Downloads
How to Cite
Dale, L. (2017). Reading Three Stories of Palm Island. ETropic: Electronic Journal of Studies in the Tropics, 16(2). https://doi.org/10.25120/etropic.16.2.2017.3617
Section
Essays and Articles on Australian Literature
License
Authors who submit articles to this journal agree to the following terms:
1. Authors are responsible for ensuring that any material that has influenced the research or writing has been properly cited and credited both in the text and in the Reference List (Bibliography). Contributors are responsible for gaining copyright clearance on figures, photographs or lengthy quotes used in their manuscript that have been published elsewhere.
2. Authors retain copyright and grant the journal right of first publication with the work simultaneously licensed under a Creative Commons Attribution (CC-BY) License that allows others to share and adapt the work with an acknowledgement of the work's authorship and initial publication in this journal.
3. Authors are able to enter into separate, additional contractual arrangements for the non-exclusive distribution of the journal's published version of the work (e.g., post it to an institutional repository, or publish it in a book), with proper acknowledgement of the work's initial publication in this journal.
4. Authors are permitted and encouraged to post their work online (e.g., in institutional repositories or on their website) prior to and during the submission process, as it can lead to productive exchanges, as well as earlier and greater citation of published work (see The Effect of Open Access or The Open Access Citation Advantage). Where authors include such a work in an institutional repository or on their website (i.e., a copy of a work which has been published in eTropic, or a pre-print or post-print version of that work), we request that they include a statement that acknowledges the eTropic publication including the name of the journal, the volume number and a web-link to the journal item.
5. Authors should be aware that the Creative Commons Attribution (CC-BY) License permits readers to share (copy and redistribute the work in any medium or format) and adapt (remix, transform, and build upon the work) for any purpose, even commercially, provided they also give appropriate credit to the work, provide a link to the license, and indicate if changes were made. They may do these things in any reasonable manner, but not in any way that suggests you or your publisher endorses their use.